Pool Upkeep
Swimming Pool Equipment, Products, and Chemicals to Keep your Pool Looking Pristine!
Keeping your pool clean and well maintained is important for keeping your pool maintenance costs low. And the types of products you use are just as important as the cleaning process itself.
At C2 Pools, we offer only the best swimming pool equipment and chemical cleaning products available. These are products we have used and trusted for more than a decade, so we feel confident recommending them to our customers.
If you need suggestions or have questions about swimming pool maintenance, give us a call. If you know what pool products you want, contact us to place your order!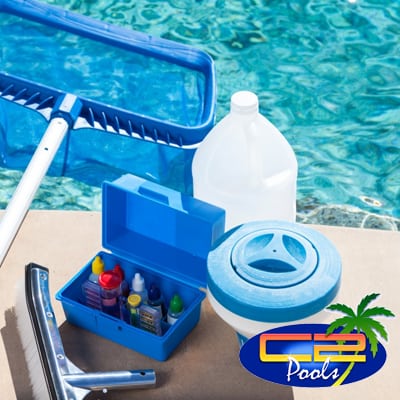 Eco-Friendly Chemicals

Being green doesn't mean your pool has to be green.

Water Testing

Our tools help you easily and quickly manage your water quality.

Maintenance Equipment

We're your one-stop shop for skimming nets, traps, scrubbers, and more.

Automatic Cleaners

It's the 21st Century. Let a robot do the work!
Filters

Replacement filters help you keep your pool clean and comfortable.

Pumps & Motors

Ask us about the brands we recommend for longevity and ease of use.

Pool Covers

Automatic and mesh pool covers help keep your pool free of debris.

Learn More About Our Pool Maintenance Services

Dive in with a Free Quote!
C2 Pools is a one-stop shop for design, installation, funding options, full-service maintenance, and pool supplies. Just give us a few details about your pool or spa project, and we'll get back to you within 48 hours with a quote.